Promoting Beneficial Ownership and Contract Transparency: A Path to Curbing Corruption in Nigeria's Extractive Sector
Introduction
Increased transparency and accountability in the contract process and properly implemented beneficial ownership and contract transparency reforms could help stem the tide of mismanagement and corruption that appears to be rife in the overall system. Beneficial Ownership and its reform strive to bring an end to corrupt or criminal transactions that deny countries of valuable income through tax evasion, money laundering, and bad deals structured by Politically Exposed Persons (PEPs). 
In addition, it is pertinent that implementing Beneficial Ownership and Contract Transparency is properly carried out to strengthen governance, improve financial transparency, and combat corruption.
The lack of transparency in extractive contracts in Nigeria has encouraged an environment suitable for corruption. The practice of withholding specific contract data from the Ministries of Petroleum Resources, Mines, and Steel has denied citizens the opportunity to assess whether fair deals are established and efficiently implemented. This obscurity has given rise to significant corruption, with illicit money flows frequently concealed through government contracts. Beneficial ownership and contract transparency have significantly fought these challenges and promoted integrity.
To this purpose, BudgIT, in conjunction with Results For Development, reviewed beneficial ownership transparency and contract transparency in Nigeria and organized capacity-building workshops to empower citizens while advocating for procurement reform. In addition, as a form of accountability, the project team researched and developed a list of corruption cases in the extractive sector.
The Significance of Beneficial Ownership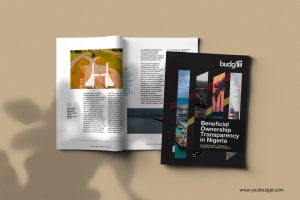 Beneficial ownership refers to individuals who enjoy the benefits of ownership, even if the property's title is held under another name. These beneficial owners are frequently hidden from the public and government authorities for various reasons. Identifying the owners of extractive companies to combat corruption and conflicts of interest is crucial. Studies have shown that procurement fraud accounts for a considerable amount of government expenditures, and corruption cases in Nigeria are frequently linked to procurement. 
Beneficial ownership transparency can serve as a deterrent and help identify questionable transactions. It is an integral part of good governance,  and government can limit the risk of state capture by revealing hidden interests, preventing illegal influence, identifying corrupt networks, enhancing anti-corruption measures, and fostering integrity and trust in public institutions by ensuring openness in beneficial ownership.
State Capture and the Need for Transparency
Numerous state capture and corruption cases have occurred in Nigeria, underlining the necessity for beneficial ownership transparency. For example, the Niger Delta Development Commission (NDDC) operated several bank accounts, collected large sums of money, and awarded several contracts, many of which were abandoned or captured by vested interests. In another case, the Accountant General of the Federation was detained for the alleged diversion of public funds and money laundering.
Transparency in beneficial ownership can help to prevent such occurrences while holding individuals linked to unethical practices accountable.
The Road to Transparency: Steps and Challenges
While there has been progress in Nigeria in terms of beneficial ownership transparency, there is still much work to be done. The government should prioritize systematic data collection and storage, robust verification procedures, correct licensing processes, and create an auditable database to improve transparency. It is critical to ensure the accuracy of beneficial ownership data provided to the database through comprehensive verification procedures. Furthermore, governments should provide open contractual data in a machine-readable format to enable sharing and utilization.
The Benefits of Contract Transparency
Transparent contracts and procurement benefits the government, citizens, and investors

Transparent contracts enable governments to negotiate terms and conditions that benefit all parties concerned

They strengthen community relations by facilitating effective monitoring and enforcement, reducing the need for contract renegotiation

Contract transparency gives investors the information needed to analyze risk and make informed decisions

Contract transparency ensures democratic accountability by allowing citizens to scrutinize contracts relating to natural resources because these resources are considered public property
Contract Transparency Initiatives
Although the Petroleum Industry Act (PIA) and the Companies and Allied Matters Act provide a framework for publishing contracts and beneficial ownership information, they do not provide the same level of access to information or openness as the Freedom of Information Act. Therefore, civil society, the media, and accountability institutions must also leverage the Freedom of Information Act to enhance accountability in the post-PIA era. Companies should adopt disclosure policies and proactively publish policies and actual contracts on their websites.
The Nigeria Extractive Industries Transparency Initiative (NEITI) Act should be updated to include a contract, license, and permit repository. Also, contract transparency should be prioritized by the new agencies established under the PIA.
Key Informant Interviews
BudgIT is interested in improving the proper implementation and practice of Beneficial Ownership and Contract Transparency. Hence, BudgIT obtained the perceptions and views of stakeholders in the development space on the above transparency and accountability issues. This was to discuss with the key stakeholders and assess their knowledge of necessary reforms for mitigating state capture in Nigeria.
Several questions were asked to assess their depth of understanding of the open ownership principles and to verify if the principles fulfilled all the requirements.
During the stakeholders' meeting, we conducted an assessment to understand the procurement process and their understanding of contract transparency. From this, we've gathered that there is a need for a capacity-building workshop for civil society organizations and the media, as there is an obvious gap in the knowledge of beneficial ownership and contract transparency.
Stakeholders' Engagement and Capacity Building Workshop
To further promote transparency, BudgIT and Result for Development (R4D) organized stakeholder engagement and capacity-building workshops held in Rivers and Akwa Ibom States, with participants drawn from diverse roles. These included civil society organizations, the media, and other stakeholders. It was an engaging session where the participants discussed their concerns about implementing BOT and contract transparency. They came up with valuable recommendations at the end of the workshop.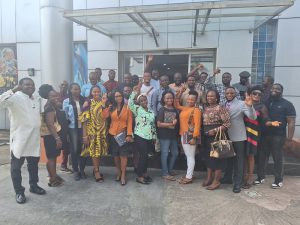 There is a subsequent need for more training and workshops to be organized to enhance awareness of the benefits of beneficial ownership and contract transparency and provide participants with the tools they need to advocate for transparency in the extractive sector. Civil society organizations should continue to advocate for transparency, and the media should engage in storytelling to educate the public about the necessity of transparency in the sector.
Online Shaming and Naming Register
We developed an online "naming and shaming" register of indicted politically exposed persons who have enriched themselves from extractive resources. This was done to draw attention to the issues of corruption in the extractive sector and the individuals who enable them. This register is hosted on the FixOurOil website. A continuous update of the register will be done beyond the project timeline.
Conclusion
The opacity surrounding contracts and corporate ownership in Nigeria's extractive industry has been ruining revenues for years and limiting citizens' capacity to demand accountability from the government and businesses. Beneficial ownership and contract transparency are critical for combating corruption and ensuring responsible management of Nigeria's extractive sector.
To develop a transparent and accountable extractive sector, the government must take actual initiatives like data collection and publication, sanctions and enforcement, and verification procedures. Beneficial ownership and contract transparency assist governments, citizens, and investors by facilitating fair negotiations, improving accountability, and decreasing the possibility of corruption.
Through stakeholder collaboration and increased awareness, Nigeria can set the path for a more transparent and sustainable future in its extractive sectors.
Below are the links to the blog posts, infographics, and documents developed as a result of advocacy for Beneficial Ownership Transparency and Contract Transparency in Nigeria:
https://www.fixouroil.com/corruption-cases
https://fix-our-oil.s3.eu-west-2.amazonaws.com/1670237752958/application/Beneficial_Ownership_Transparency_Infographics.pdf
https://fix-our-oil.s3.eu-west-2.amazonaws.com/1669985928036/application/Contracting%20Reforms%20INF.pdf
https://fix-our-oil.s3.eu-west-2.amazonaws.com/1670245870233/application/Beneficial%20Ownership%20Transparency%20in%20NiGERIA.pdf 
https://fix-our-oil.s3.eu-west-2.amazonaws.com/1669985808127/application/Contracting%20Reforms_UPD.pdf 
https://budgit.org/niger-delta-beneficial-ownership-and-contract-transparency-issues-a-cso-discussion/ 
https://budgit.org/contract-transparency-and-beneficial-ownership-reforms-in-nigeria-the-what-why-and-how/