Service Delivery Tracking
Constituency projects tracked from 2014 till date
 Local Governments visited across 32 states
Town Hall Meetings held in 32 states
Communities engaged across focus states.
There was no better way to address critical service delivery issues in Nigeria. From the non-inclusion of citizens in developmental projects and the increasing number of abandoned projects to the poor execution of the few implemented projects, service delivery in Nigeria needed a solution, and we came up with one –  Tracka.
The problem of service delivery in Nigeria is a long-standing one. Over the years, Nigerians in rural communities have had little or no idea of government projects in their communities, So we asked ourselves, how do we educate citizens about budgetary allocations for projects in their communities and equip them with the right tools that make it easy for them to hold their elected representatives accountable on project implementation and service delivery?
This quest birthed Tracka, our service delivery promotion arm, http://www.tracka.ng. To put it briefly, Tracka enables citizens to collaborate, track, and give feedback on public projects in their community. We use online and offline engagement channels to keep residents informed about these government projects. This is not all. We also have project tracking officers across 32 states in Nigeria. These officers track projects that have been earmarked in the budget and then give feedback to the citizens on the project status.
In situations where projects have been abandoned or where we noticed some correction loopholes regarding fund disbursement and resource allocation, we engage relevant stakeholders and institutions at the national and sub-national levels to galvanise them into action. We also equip citizens with the right tools that make it easy to follow up on the projects and demand continuous transparency and accountability.
It's been 7 years, and we can boldly say that these processes have entrenched a more profound sense of responsibility in elected representatives concerning service delivery. Effective project delivery has improved tremendously for the masses, political engagement between leaders and citizens is enhanced, invariably fostering accountability and trust in the democratic system.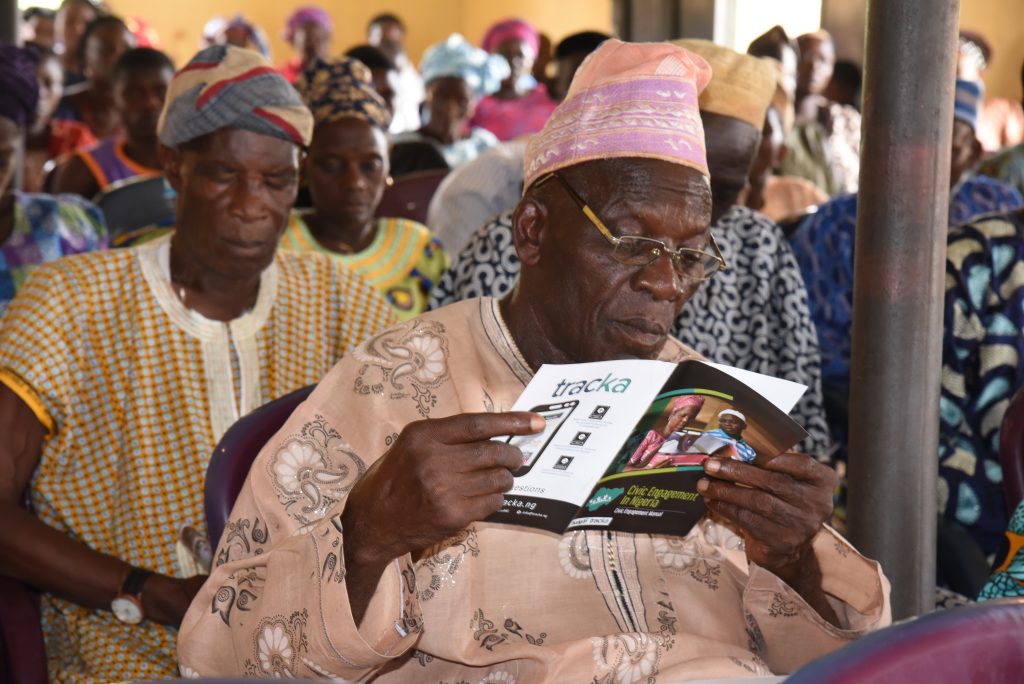 To put it more succinctly, more citizens and communities are now adequately equipped to demand excellent service delivery from their elected representatives, thanks to Tracka.
So far, from 2014 till date, TRACKA has monitored over 17,811 zonal intervention projects, Federal government consolidated projects, State government projects and Local government projects across Nigeria, visited over 678 Local government areas in Nigeria, held over 11,013 town hall meetings with the focus states, engaged over 12,567 communities across 32 states in the country and reached over 100 million citizens through our offline and online engagement programs.
In those years, our team have leveraged the use of traditional media outlets to reach more audiences through programs such as Office of the Citizen on Naija Info 99.3fm, Sweet Fm, 107.1 and Open Kaduna on Freedom fm 92.9 fm, TrackaPlus and Oversight, both on Channels TV. These programs are designed for citizens to comment on issues around project implementation in each state.