Empowering Gender and Youth Inclusion in Nigeria's Energy Transformation
The global paradigm is shifting from fossil fuels to cleaner and more sustainable energy sources, known as the energy transition. This transition is catalyzed by the urgent need to combat climate change, reduce environmental degradation, and decrease reliance on coal, oil, and natural gas. Its significance lies in mitigating the adverse impacts of extreme weather, deforestation, floods, and fires and meeting international obligations under the Paris Agreement to curtail global warming.
The Just Energy Transformation takes this transition a step further by emphasizing not just environmental responsibility but also social inclusivity, equity, and economic fairness. It encompasses the imperative of addressing environmental justice, economic inequality, and social inclusion throughout the energy transition process.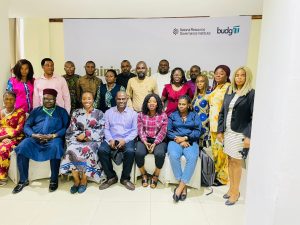 Just Energy Transition Awareness Training
To foster collaboration, BudgIT and the Natural Resource Governance Institute (NRGI) organized a one-day sensitization and capacity-building event in Uyo, Akwa Ibom, Nigeria, on September 28, 2023. This event centered around the critical theme of Just Energy Transition and its profound impact on women and youth in Nigeria, emphasizing a people-centered approach to Nigeria's energy transition process.
The event kicked off with an introduction to the fundamental concepts of energy transition (ET) and Just Energy Transformation (JET), in which case, energy transition refers to the global shift from fossil fuels to cleaner, more sustainable energy sources. The adoption of cleaner energy is paramount in the battle against climate change, the reduction of air and water pollution, and the promotion of a healthier environment.
The participants actively engaged in discussions and activities, sharing their perspectives on the notions of fairness and equity within their communities. They also explored issues around environmental justice, economic inequality, and social inclusion.
The Unique Impact on Women
A focal point of discussion was how energy transition affects women differently from men. Women play a pivotal role in households, rendering them particularly susceptible to changes in energy sources. Nigeria is diligently pursuing clean cooking initiatives to transition household energy from conventional sources like charcoal and kerosene to cleaner alternatives. Nevertheless, concerns exist regarding the affordability, accessibility, and support for women during this transition. Furthermore, there is a shortage of strategies for upskilling, reskilling, and reintegrating women into new employment opportunities, especially as indirect jobs in sectors like food supply and healthcare diminish with the shift away from fossil fuels.
The transition can also displace numerous youths employed in the fossil fuel sector or indirect roles unless they receive appropriate training and opportunities in alternative sectors. This issue looms large in oil-producing states like Imo, Akwa Ibom, and Rivers, which grapple with alarmingly high unemployment rates.
An instance was cited during the event where women were restricted from decision-making processes in a community, and specific dress codes bound those permitted to be part of such processes. Cases like these underscore the challenges faced by women.
While these challenges exist, the transition also brings about positive impacts on women and youth, including advancements in health outcomes, job creation, and economic empowerment.
Gender and Youth Impact on Energy Transition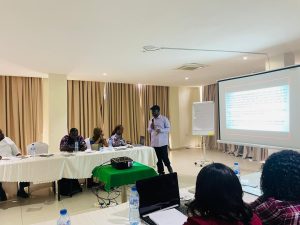 A session focused on the effects of Nigeria's energy transition on women and youth led by Ms. Juliet Alohan, Executive Director of Extractive 360, and Mr. Fyneface Dunmamene, Executive Director of the Youths and Environmental Advocacy Centre (YEAC-NIGERIA). This session aimed to raise awareness about the unique concerns and challenges faced by women and youth in this transition.
Juliet, in her presentation, focused on the impact of the energy transition on women, particularly in the Niger Delta region. She highlighted the positive and negative effects and stressed the importance of women's involvement in the process by understanding it, advocating for marginalized groups, holding elected representatives accountable, and seeking redress for historical environmental injustices from a rights perspective.
Fyneface reviewed Nigeria's energy transition and its implications for the youth. His presentation discussed the role of Nigerian youths in the country's energy transition. It underscored the importance of youth involvement in Nigeria's energy transition, addressing concerns around job creation, infrastructure, inclusion, and the protection of the civic space. He also emphasized the necessity of youth development and participation in the energy transition process to counter concerns about youth exclusion.
The participants gained insights into how the energy transition process could impact women and youth. For women, the transition could yield positive and negative outcomes, including enhancements in health, job opportunities, and economic empowerment. However, challenges like economic disparities and traditional gender roles may limit their participation in decision-making processes.
Youths, constituting a substantial portion of Nigeria's population, are mainly influenced by the energy transition. While it promises job creation and economic growth, doubts arise regarding the feasibility of these projections, given the nation's high unemployment rates.
Advocacy and Policy Reform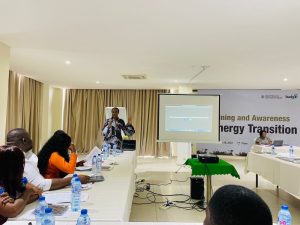 It was indeed an enlightening conversation as the participants were also sensitized on the critical role of data and information in advocating for the inclusion of women and youth in Nigeria's Energy Transition Plan (ETP) and process. Engr. Adejoke Akinbode, Extractives Lead at BudgIT Foundation, highlighted strategies to mitigate the economic impact of the energy transition on women and youth. These include targeted training and education, financial support, diversity and inclusion policies, and community engagement. She also sensitized participants about leveraging data and information for advocacy at various levels of government, encompassing national, state, and local levels.
Tengi George-Ikoli, Senior Programmes Officer, and Ana Carolina Gonzalez, Senior Director of Programmes at the Natural Resource Governance Institute, led another session on the importance of thinking about gender-specific effects and getting women involved in the transition to clean energy. They emphasized the need to advocate for policies and reforms to address the concerns and needs of women and youth in these transitions, offering insights into the existing frameworks governing Nigeria's energy transition.
This session further explored advocacy tools and options for women and youth groups, encompassing awareness creation, clean energy training, data generation, empowerment through training programs, and the advocacy for gender and youth units within government departments.
Reflecting on Nigeria's energy transition at the national level, participants delved into the importance of gender and youth inclusion in the advocacy process. They also heard a success story from the Esit Eket community, underscoring their engagement with the government and the community to achieve environmental justice.
The event concluded with a dedicated session to outline concrete next steps. Participants deliberated on how to apply the knowledge and insights gained during the training. This covered plans for grassroots mobilization, collaboration with civil society organizations, advocacy campaigns, and community engagement.
The Path Forward
In the journey toward a clean, equitable, and sustainable energy future, the voices of marginalized groups must be heard and included in decision-making processes. By addressing environmental justice, economic inequality, and social inclusion, Nigeria can pave the way for a more inclusive and equitable transition to clean and sustainable energy sources. Through proper planning, education, and support, energy transition can catalyze positive change and foster economic growth, environmental sustainability, and social justice for all Nigerians. It calls for the government and stakeholders to collaborate to ensure no one is left behind in this essential phase.
The training and awareness event on Just Energy Transition in Nigeria marked a significant step toward promoting gender and youth inclusion in the country's energy transition process and set the stage for continued advocacy and action in the pursuit of a more inclusive and equitable energy transition in Nigeria. It also provided a crucial platform for understanding the challenges and opportunities of transitioning to cleaner energy sources.  It is through such initiatives that Nigeria can navigate the complexities of the energy transition and ensure a brighter, more sustainable future for all its citizens.