In a groundbreaking stride toward transparency and accountability within Nigeria's extractive industries, a collaborative effort has emerged to tackle one of the most pressing challenges—the complex web of connections between Politically Exposed Persons (PEPs) and companies holding mining, oil, or gas licenses. The project, "Joining the Dots for Politically Exposed Persons in Nigeria," was recently launched with great anticipation, promising to shed light on hidden corruption risks and conflicts of interest that have long plagued the country's natural resource governance.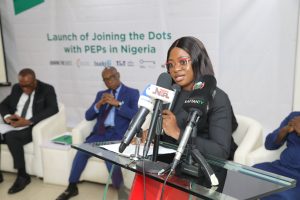 The Challenge Unveiled
Throughout its history, Nigeria's extractive ecosystem has confronted a significant and persistent challenge: a scarcity of readily available tools and comprehensive data to thoroughly assess Politically Exposed Persons (PEPs) engagement in extractive sector licenses. This longstanding resource gap has fostered an environment conducive to corruption and the secret movement of illicit financial flows. The result is an intricate web of opacity that shrouds the ownership structures and potential conflicts of interest within the extractive sector, frustrating the advancement of transparent and accountable governance practices.
This scarcity of accessible tools and data has been a breeding ground for corrupt practices, allowing influential individuals to exploit the ambiguity surrounding their connections to extractive licenses. Without the means to effectively scrutinize and cross-reference the involvement of PEPs in these licenses, opportunities for unethical dealings thrive. The absence of publicly available information is a barrier, making it hard to see how different special interests connect and creating fertile ground for manipulation.
With this, the environment is ripe for corruption, and it is further exacerbated by the absence of a robust mechanism to decipher the intricate ownership structures and webs of influence that often characterize the extractive sector. The need for clarity surrounding the identities of beneficial owners, coupled with the inability to trace affiliations and financial flows, hampers efforts to hold critical actors accountable. This impediment undermines the industry's integrity and hinders the overall progress toward cultivating a governance landscape characterized by transparency, fairness, and responsible resource management.
The Launch: A Milestone in Transparency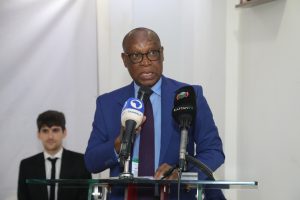 Amidst great anticipation and with a sense of historical significance, Nigeria witnessed a pivotal moment on Tuesday, August 29, 2023. It marked a transformative stride in Nigeria's relentless pursuit of accountability and transparency within the extractive sector with the official launch of the "Joining the Dots for Politically Exposed Persons in Nigeria" project.
This launch was more than a mere ceremonial affair as it signified a relentless commitment to ushering in a new era of governance, defined by its unwavering dedication to unmasking corruption, illuminating obscure connections, and empowering citizens with the tools to drive change. The project embodies the belief that by unearthing these hidden relationships, Nigerians can identify and mitigate the corrosion of corruption, allowing the nation's valuable resources to be channeled toward progress and development.
NEITI's Head of Communications, Obiageli Onuorah, underscored the platform's significance,
"It's a first-of-its-kind tool designed to empower every Nigerian to ignite change in our natural resource governance. By illuminating the intersections where Politically Exposed Persons meet extractive licenses, we provide citizens with a tangible opportunity to initiate action. This platform is a lens that reveals potential red flags, enabling us to dive deeper into these intersections and uncover conflicts of interest that might otherwise remain concealed."
NEITI's Executive Secretary, Dr. Orji Ogbonnaya Orji's keynote address resounded with conviction as he reinforced the project's alignment with EITI principles and NEITI's relentless commitment to combat corruption.
"Today, we stand on the precipice of a new era in our fight against corruption. This platform stands as a testament to our dedication. It orchestrates the symphony of data, harmonizing the information on Politically Exposed Persons with the registers of beneficial ownership. It becomes a guardian, standing vigilant against corruption's advances within the heart of Nigeria's oil, gas, and mining sectors. Through this, we forge a path illuminated by integrity, accountability, and transparency."
Empowering Through Data: Insights from the Platform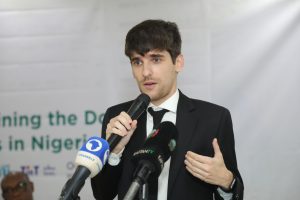 The presentations by Juan Krahl of Directorio Legislativo and Adejoke Akinbode of BudgIT delved into the platform's mechanics. A comprehensive project methodology was unveiled, involving data cross-referencing, local alliances, a red-flag system, data research, analysis, and the final presentation of results. Juan and Adejoke candidly discussed data collection and analysis challenges, including the lack of proper identifiers for individuals and the absence of data from governmental sources.
The platform's initial results analyzed over 5000 PEPs, 69 PEP relatives, 5856 companies, and 14123 beneficial owners. More than 500 PEPs were identified with potential conflicts of interest related to extractive licenses. Among these, the majority were connected to the Legislative branch, with a significant number from the House of Representatives. Surprisingly, almost all PEPs in these alerts were men. Geographically, Kano, Niger, Kaduna, and Katsina States featured the highest concentration of PEPs. Most companies flagged by the platform were in the oil and gas sector, illustrating the connection between influential individuals and the lucrative extractive industries.
Avenues for Progress: Addressing Concerns
The launch transcended beyond a basic presentation of findings to a dynamic forum where stakeholders converged to engage in a discourse that was both enlightening and transformative. Beyond being a one-way flow of knowledge, it fostered a vibrant exchange of ideas, inquiries, and insights. It became a collective endeavor to unravel how "Joining the Dots for Politically Exposed Persons in Nigeria" worked and its implications for the nation's extractive sector.
Central to this event were the interactions that unfolded, driven by a shared commitment to unveil the truth and pave the way for meaningful change. Within this sphere of dialogue, key discussions converged around a series of critical themes, each bearing its weight in the pursuit of transparency and accountability.
The interplay between oil and gas and mining emerged as a central point of exploration. Attendees ventured into potential overlaps and shared interests between these two crucial sectors, delving into the complex connections that might exist beneath the surface. They emphasized the platform's ingenious methodology for dissecting and addressing the intricate interdependencies throughout these deliberations. Another focal point was the paramount concern for data protection. Acutely aware of the sensitivity of the information, stakeholders sought robust assurances regarding preserving data privacy. They resonated with the importance of adhering to stringent data protection laws. Transparent data management practices, including the reasonable redaction of sensitive information, were underscored as non-negotiable principles underpinning the platform's integrity.
Regarding language, the forum dissected the implications of terminology, such as "red flags." The discussions unveiled a collective recognition of language's power to shape perceptions and outcomes. Stakeholders emphasized the importance of employing precise, neutral language without unwarranted implications. This careful use of language was pivotal in conveying concerns without prematurely casting aspersions.
In a world where data is constantly in flux, participants also brought the importance of keeping the platform's information current to bear. With PEP data demonstrating its dynamic nature, the necessity of establishing mechanisms for real-time updates emerged as a linchpin in maintaining the platform's efficacy. Usability and integration also came to the fore, as attendees advocated for an enhanced user experience and data assimilation from diverse sources. This multi-pronged approach gave stakeholders a holistic and comprehensive understanding of ownership structures within the extractive sector.
Amid these discussions, the scope of data assumed paramount importance. Participants sought clarity on the reach of the platform's data coverage, probing whether its insights extend beyond Nigeria's borders. The potential for international connections and their implications on corruption and accountability within the extractive sector was a point of keen interest. Last but not least, the dialogue spotlighted the indispensable role of local communities and citizens. Participants noted that grassroots citizens often hold the keys to identifying and mitigating corruption risks. The importance of involving these stakeholders in the project was highlighted as a testament to their unique insights and vital contributions to achieving transparency and accountability.
Access the platform here: https://peps.directoriolegislativo.org