There is a need for leaders to be agile and adaptive to changing conditions as the convergence of transitions creates an environment of uncertainty and instability, potentially disrupting global markets. – Dr. Muntaqa Umar-Sodiq, Energy Transition Office
The drive toward more sustainable energy consumption and usage increased due to the glaring adverse consequences of using dirty fuels. While many arguments have been made about adopting cleaner energy sources and the urgency that should attract them, the 'Energy Transition in Nigeria: Fiscal Options and Investment Opportunities' event focused on the implications of the impending shift for petro-dependent states and developing economies like Africa, particularly Nigeria. Stakeholders, including representatives from the National Extractive Industries Transparency Initiative (NEITI) and the Extractive Industries Transparency Initiative (EITI), discussed climate finance sources and applications in Nigeria's energy transition. 
For a meaningful move like an energy transition, finance plays a significant role. The costs of transitioning to renewable energy sources can be substantial, and financing can help make them more affordable. The part of public finance in Nigeria catalyzes the fiscal lens of the energy transition, and a focused consultation in a complex and dynamic country like Nigeria is needed because It takes time to deliberate on a process like an energy transition, especially in its financing. 
Energy Transition in Nigeria and Climate Financing Event
On Tuesday, June 27, 2023, BudgIT hosted a 1-day event in Abuja to stimulate conversations on Energy Transition and Climate Financing. The dialogue provided state and non-state actors with a platform to discuss the challenges and opportunities of the changing energy landscape. This event also addressed the impact of climate change on Nigeria's future, the fiscal options available to facilitate a successful shift, and the promising investment opportunities emerging in the renewable energy sector.
It featured a presentation and panel discussion on "Fiscal Options and Investment Opportunities for Energy Transition in Nigeria," which was facilitated by BudgIT's Senior Research and Policy Analyst, Enebi Opaluwa, with contributions from Dr. Muntaqa Umar-Sadiq, Head of the Energy Transition Office, Mr. James Ogunleye, Managing Director, Carbon-Limits Nigeria, Mrs. Victoria Ibezim-Ohaeri, Executive Director, Spaces for Change, Ms. Tengi George-Ikoli, Senior Officer, NRGI, and Dr. Bamidele Olajide, Lecturer, Department of Political Science, University of Lagos.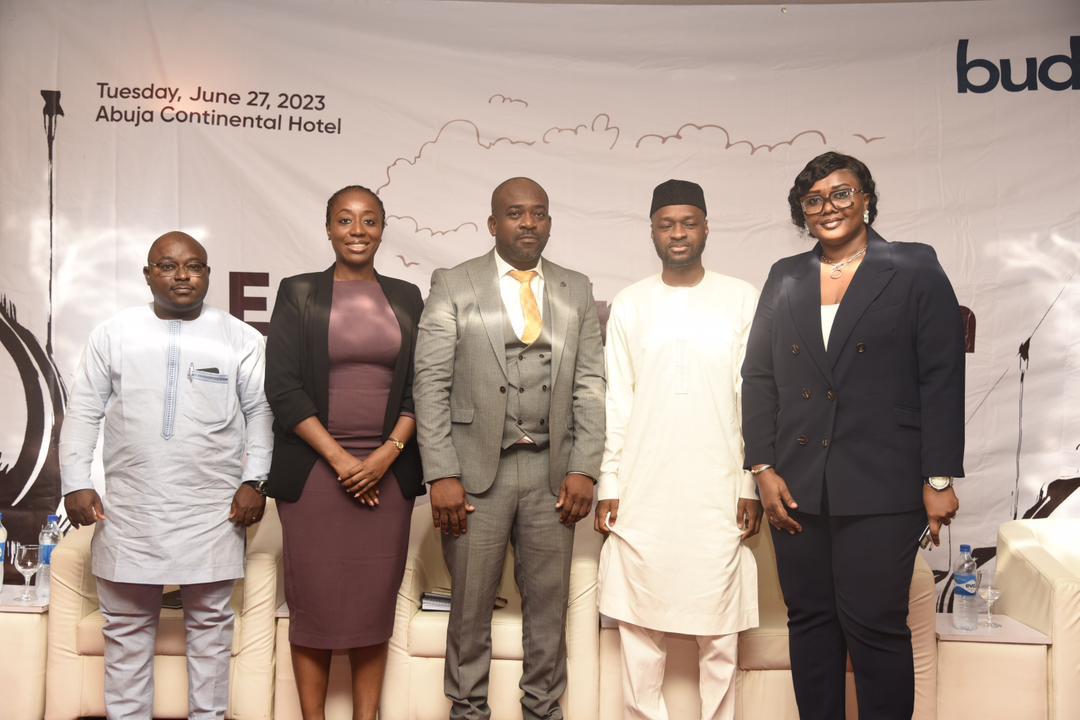 BudgIT's Global Director, Oluseun Onigbinde, in his welcome remarks, stressed the changing energy sources and many significant changes in climate change. He added that an appraisal and analysis of other countries' energy transition plans had been carried out, confirming that accountability and equity are part of their plan alongside a demand for transparency and public input. "The Nigerian government at the local and federal level should be accountable to guarantee and ensure that the plan is appropriate, efficient, and equitable. Also, there is a need to ensure that the public is informed and involved to ensure the plan works for all," Oluseun stated.
While delivering his keynote address, Dr. Muntaqa Umar-Sadiq emphasized the various transitions co-occurring, compounded by political transitions, thus, leading to an environment of uncertainty and instability in global markets. According to him, the actors involved must be agile, creative, and open to innovation. He also noted that the conversation on energy transition is indeed timely, as the future of Nigeria's sustainable development hinges on thoughtful planning and decisive actions.
He also added that the Energy Transition Plan for Nigeria aims to achieve vessel access by 2030 in a specific and imperative manner. This plan ensures Nigeria's access to reliable, sustainable, and affordable energy sources while reducing reliance on fossil fuels and cutting carbon emissions. Its implementation requires a robust pipeline that includes carbon sources and financing options.
The Role of CSOs in Nigeria's Energy Transition Plan
Civil Society Organisations play a crucial role in driving Nigeria's energy transition, as they act as advocates and can influence policies, increase awareness about the necessity of sustainable and renewable energy sources, and encourage cleaner technologies. There is also a need for the CSOs to collaborate with the government, the private sector, and communities to support renewable energy projects and initiatives, promoting a more inclusive and participatory approach to the energy plan and its implementation.
The sector will also serve as watchdogs for monitoring governments' and international organizations' targets for reducing greenhouse gas emissions and offer expertise to private companies on unique opportunities to invest in renewable energy infrastructure, research and development, and sustainable technologies. By leveraging their expertise and technical resources, civil society can accelerate the deployment of clean energy solutions and contribute to a more sustainable future.
Furthermore, civil society organizations can monitor energy-related operations to ensure openness, accountability, and adherence to environmental norms while providing policymakers and stakeholders with valuable insights, data, and feedback and assisting in developing effective energy laws and regulations.
During the panel session, some points were noted. One of them was that Nigeria's commitment to the energy transition is commendable, but there are oversights, particularly regarding the environmental impact on communities. The plan should emphasize environmental justice and the creation of alternative livelihoods.
Another crucial observation was that one of the critical factors hindering Nigeria's progress is the lack of reliable data, especially in accessing funding for the Clean Development Mechanism. Reliable data collection is paramount to overcome this bottleneck.
On the Energy Transition Plan, it was noted that the plan would require robust pipeline curation, carbon sources, and financing space to achieve reliable, sustainable, and affordable energy sources for Nigeria while reducing its reliance on fossil fuels and cutting carbon emissions.
Regarding Nigeria's gas plan, stakeholders expressed the need for strategic investment to prevent an energy security crisis, focusing on right-sizing ambitions for gas and exploring potential partnerships with the Petroleum Industry Act.
The dialogue served as a platform for critical conversations and shared perspectives on Nigeria's Energy Transition. BudgIT is committed to using these insights to improve engagement and help guide the country toward a more sustainable and prosperous future. Stakeholder engagement, data reliability, environmental justice, and strategic investment are vital to building a long-term energy transition framework that aligns with Nigeria's priorities and needs.
By working collaboratively, Nigeria has the potential to be a leader not only in Africa but also in the developing world's energy transition journey. As the nation progresses towards achieving vessel access by 2030, it will be vital to keep stakeholders involved, consider the environmental impact, and foster transparency while ensuring Nigeria's energy transition benefits all its people.
Download the Energy Transition publication here: Energy Transition: Realities and Pathways for Nigeria